Bath
Bath is a city in the south-west of England: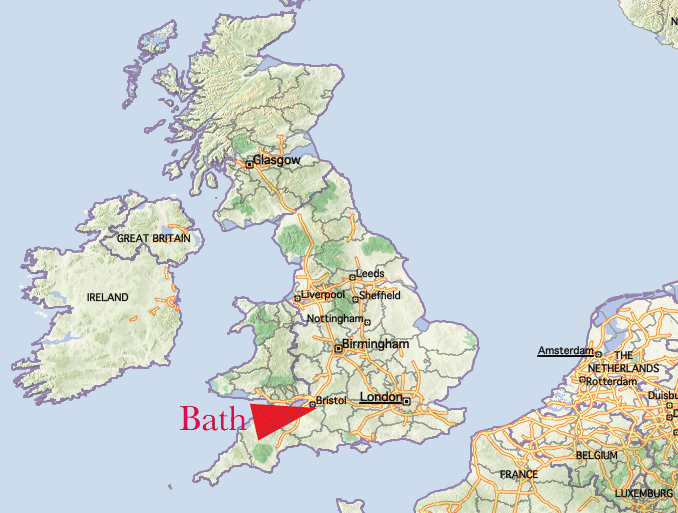 The hot springs of Bath have been known to man for over two thousand years; evidence of the Roman occupation can be seen in the Roman Baths complex in the centre of the city.
After the Romans left Britain their baths were allowed to decay but by Georgian times Bath had become "the last word in resorts for ailing men and women of fashion. It was an eighteenth century health farm with a clientele that included almost every layer of the 'gentler' classes, from royalty to parsons. Almost everyone had heard of the famous but mystical healing properties of Bath's thermal spring waters."
[Sugden 2005]
The Plaques
There are over sixty bronze Heritage Plaques dedicated to famous people who lived, visited or worked in Bath. The majority (40) lived in or visited Bath in the 18th Century; a further eighteen are from the 19th Century, with three from the early 20th Century.
Almost twenty more relate to the buildings and other structures in Bath, including such world-famous sites as the Royal Crescent and the Circus, but also the mediaeval City Wall and the one remaining City Gate (the Eastgate).
"... it may be of interest to discuss the bronze tablets that appear on many of Bath's houses, identifying the residences and lodgings of famous people, and adding greatly to the enjoyment of a walk through the city streets. These were the idea of Thomas Sturge Cotterell, a former mayor and alderman of Bath, who was also a well-known local historian and, for several years, chairman of the Libraries Committee. As a result of his zealous efforts to publicise the city and its attractions, the Corporation approved a grant of £250 to erect 45 tablets. That was in 1898. The tablets were designed by Samuel Reay, a Bath architect, and their cost was rather less than £5 each – and that included the labour charges for fixing them in position on house walls. The first tablet was unveiled in 1898, and commemorated Sir William Herschel, musician and astronomer-extraordinary, who lived at 19 New King Street."
[Lowndes 1981]
The excellent
Bath in Time
website contains a number of early photographic images of the unveiling of some of the plaques:
http://www.bathintime.co.uk/search/keywords/unveil.

An additional twenty (plus) plaques, tablets and inscriptions have also been located and documented on this website. The latest dates from February 2018 and is dedicated to
Mary Shelley
, author of
Frankenstein
. Sir Christopher Frayling, who unveiled the plaque, first proposed the siting of a plaque in 1973. Forty-five years later, one has finally being erected! Anyone who wishes to propose a new plaque should be prepared for a long wait...
The map below shows the approximate locations of the plaques; on the individual webpages a larger scale plan identifies the particular plaque in
red
using the following symbols:
Plaque to a person: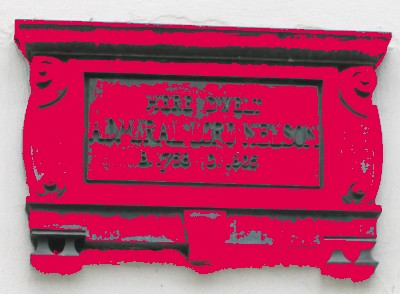 Plaque to a structure: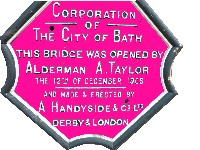 The map links to a clickable image map that opens in a new window:
---
(c) 2018 Bath-Heritage.co.uk | Contact us|