Sir Thomas Lawrence

Who was he?
Wikipedia:
Sir Thomas Lawrence RA (13 April 1769 – 7 January 1830) was a notable English painter, mostly of portraits. The best display of Lawrence's work is in the Waterloo Gallery of Windsor, a collection of much historical interest, along with his famous painting of the Duke of Wellington. "Master Charles William Lambton" also known as "The Red Boy" (1825), painted for Lord Durham at the price of 600 guineas, is regarded as one of his best portraits.
Why was he in Bath?
He was born in Bristol. His father was an innkeeper, first at Bristol and afterwards at Devizes, and at the age of six Lawrence was already being shown off to the guests of the Bear as an infant prodigy who could sketch their likenesses and declaim speeches from Milton. In 1779 the elder Lawrence had to leave Devizes, having failed in business and Thomas's precocious talent began to be the main source of the family's income; he had gained a reputation along the Bath road. His debut as a crayon portrait painter was made at Oxford, where he was well patronized, and in 1782 the family settled in Bath, where the young artist soon found himself fully employed in taking crayon likenesses of fashionable people at a guinea or a guinea and a half a head.
He was chosen President of the Royal Academy (P.R.A.) in 1820 and held the office until his death in 1830.
He lived at 2, Alfred Street Bath, for five years: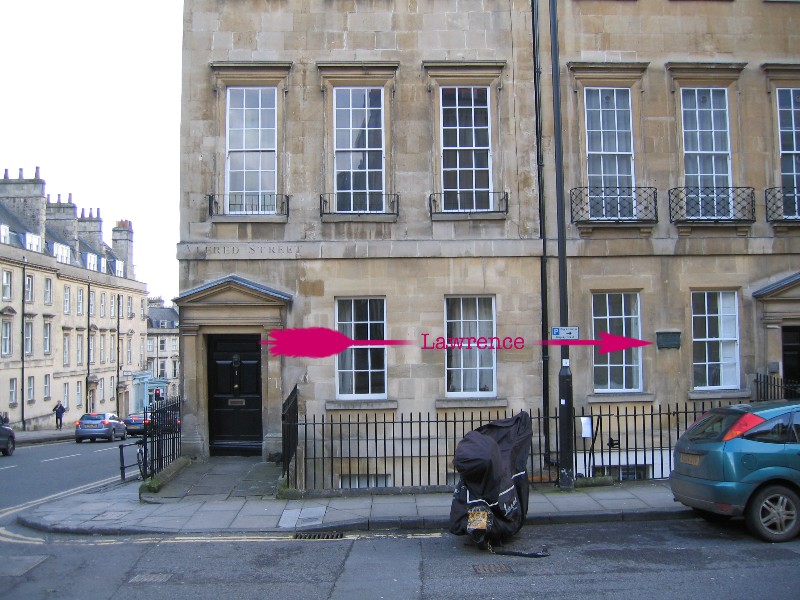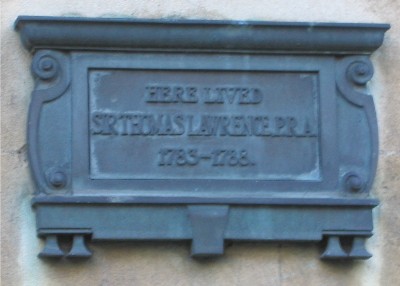 The text reads
"Here Lived Sir Thomas Lawrence P.R.A. 1783-1788."
Location map of 2 Alfred Street: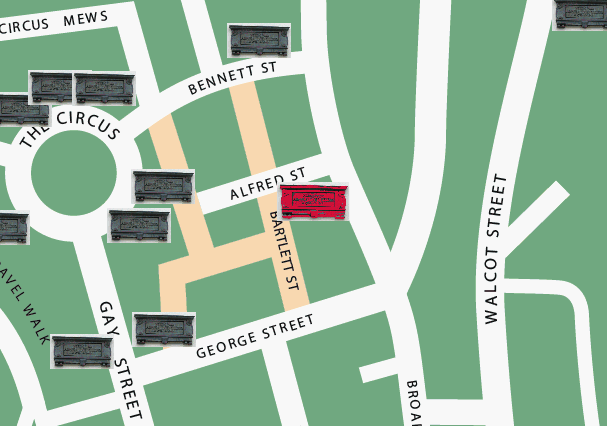 ---
(c) 2011 Bath-Heritage.co.uk | Contact us|