John Arthur Roebuck Rudge

Who was he?
Wikipedia:
John Arthur Roebuck Rudge was a scientific instrument maker by profession, later specialising in the creation of magic lanterns. He developed the
Biophantic Lantern
, which was unique in that it could display seven slides in rapid succession so producing an effective illusion of movement.
Why was he in Bath?

John Arthur Roebuck Rudge was born in Bath, the son of a wood-turner and antique dealer. As well as making scientific instruments, he was an entertainer who put on countless shows, earning the nickname 'Wizard of the Magic Lantern'.
Rudge met
William Friese-Greene
about 1880, the latter having a photographic shop nearby in Bath, and they formed a close association. Rudge did most of the technical work whilst Friese-Greene helped with the photography and put on some public demonstrations.
Friese-Greene was fascinated by the
Biophantic Lantern
and in 1886 he began work with Rudge on enhancing it in order to project photographic plates. They called the device a
Biophantascope
. Friese-Greene realised that glass plates would never be a practical medium for true moving pictures and in 1885 he began to experiment with oiled paper and by 1887 was experimenting with celluloid as a medium for motion picture cameras.
[victorian-cinema.net]

Location of plaque at New Bond Street Place: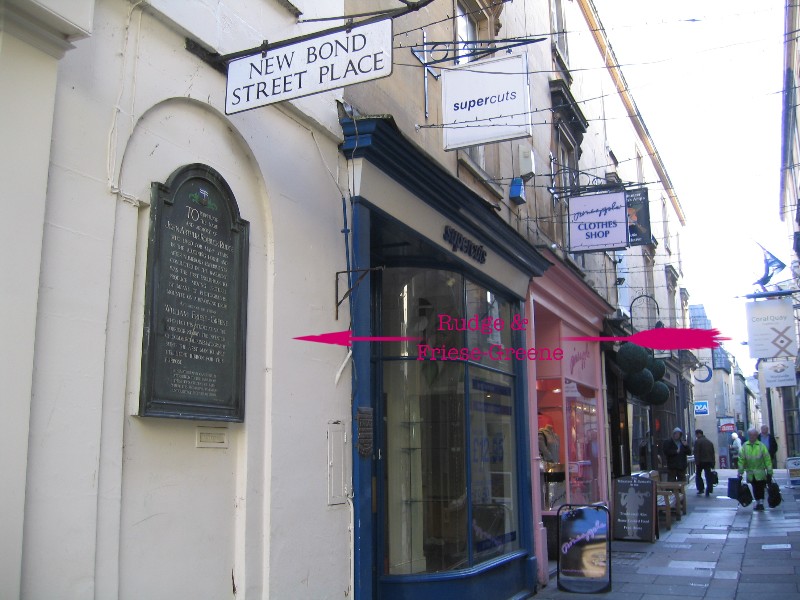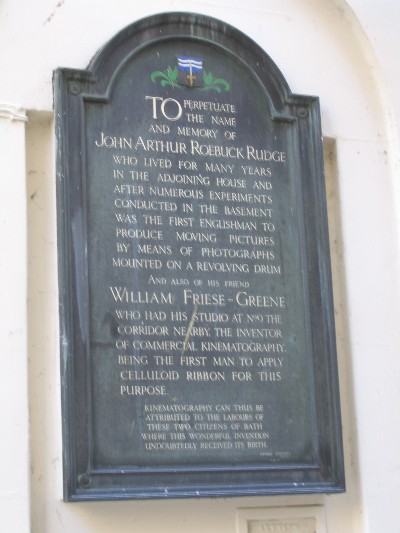 The text reads
"To perpetuate the name and memory of John Arthur Roebuck Rudge who lived for many years in the adjoining house and after numerous experiments conducted in the basement was the first Englishman to produce moving pictures by means of photographs mounted on a revolving drum.

And also of his friend

William Friese-Greene who had his studio at No. 9 The Corridor nearby, the inventor of commercial kinematography being the first man to apply celluloid ribbon for this purpose.

Kinematography can thus be attributed to the labours of these two citizens of Bath where this wonderful invention undoubtedly received its birth."

Nearby is a second plaque: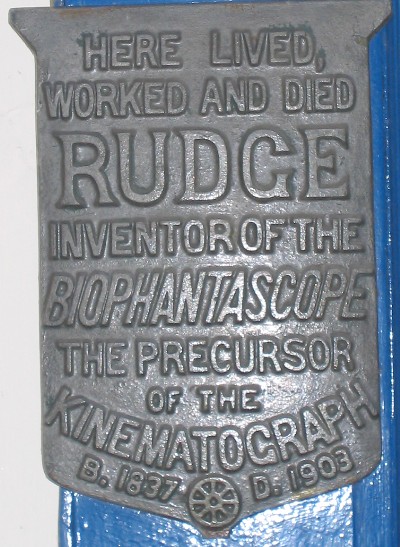 The text reads
Here lived, worked and died
Rudge
inventor of the Biophantascope the precursor of the Kinematograph b. 1837 d. 1903"
Location map of New Bond Street Place: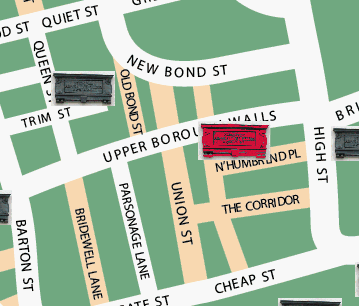 ---
(c) 2018 Bath-Heritage.co.uk | Contact us|