Edwina Troutt

Who was she?
Edwina Troutt was a passenger on the ill-fated voyage of the liner
Titanic
. She was one of the survivors and in later life was a was a favourite at Titanic functions and conventions even until she was in her late 90's. She died on 3 December 1984 in Redondo Beach, California at the age of 100, one of only five Titanic centenarians.
Encyclopedia-titanic
Why was she in Bath?
Miss Edwina "Winnie" Celia Troutt was born in Bath on 8 June 1884. She was the daughter of Edwin Charles Troutt (brewer and part-time cabinet maker) and Elizabeth Ellen Troutt (née Gay). The family lived at 40 Claverton Street and Winnie was sister to Edwin, Edgar, Elsie, Louisa L, Emmeline, Harry E. and Herbert W.
Location of plaque in pedestrianised Newark Street, Bath: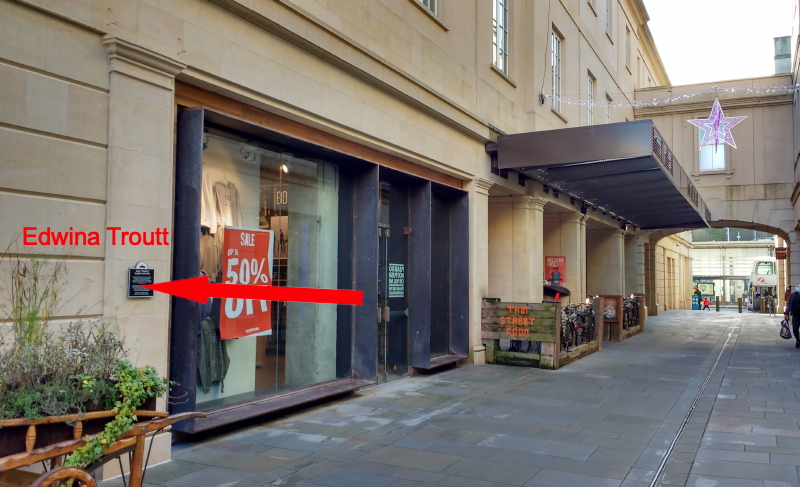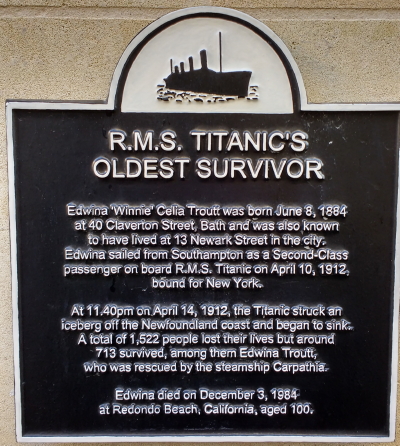 The text reads
"Edwina "Winnie" Celia Troutt" was born on June 8, 1884 at 40 Claverton Street, Bath and was known to have lived at 13 Newark Street in the city. Edwina sailed from Southampton as a Second-Class passenger on board R.M.S. Titanic on April 10, 1912, bound for New York.

At 11.40pm on April 14, 1912, the Titanic struck an iceberg off the Newfoundland coast and began to sink. A total of 1,522 people lost their lives but around 713 survived, among them Edwina Troutt, who was rescued by the steamship Carpathia.

Edwina died on December 3, 1984 at Redondo Beach, California, aged 100."

The east side of Newark Street was badly damaged by bombing during World War II. The west side was demolished to be replaced by the Southgate Shopping Centre in 1973. Newark Street gave access to the bus station and to a multi-storey car park.

The whole area was redeveloped again with the building of the SouthGate retail centre in 2010. The line of the old Newark Street was retained as a pedestrian route.

Location map of Newark Street, Bath:

---
(c) 2020 Bath-Heritage.co.uk | Contact us|