Field Marshal George Wade

Who was he?
Wikipedia
: Field Marshal George Wade (1673 – March 14, 1748) served as a British military commander and Commander-in-Chief of the Forces. He is best remembered for his role in disarming and pacifying the clans after the Jacobite Rebellion of 1715, and for the network of roads and bridges he built in the Scottish Highlands.
Why was he in Bath?
The years Wade spent abroad on one campaign after another left very little time for his family. It was now time to set about finding a permanent residence in London and Bath.
What were the attractions of this small city [Bath] that prompted Wade to give up his seat as the Member of Parliament for Hindon in Wiltshire and put himself up for election in Bath? He was duly elected in 1722 and served as the Member of Parliament for Bath for twenty-six years.
Bath at that time was a walled city, entered by four gates, and even as late as 1728 the city comprised some 400 to 500 old houses crowded into a small area – no more than fifteen streets, sixteen lanes, five open spaces, four terrace walks, and a few private ones… One visitor described the city as standing in a hole, and built on a quagmire. Apart from the healing waters, there was little to recommend it. It relied on its cloth trade and was home to no more than 2,000 to 3,000 people.
By the time Wade came to Bath, it was already host to the rich and famous. Royalty, senior military figure, statesmen, aristocrats, country squires, all manner of tricksters and card sharps flocked there. Royalty put an early stamp of approval on the city by their visits: it was undoubtedly continuing royal patronage which transformed Bath from a mere watering place into the unique resort of the fashionable world.
The most important service the General rendered to the city was the aid he gave in clearing the houses clinging to the north side of the abbey. Clearance would prevent the church (which had become a common thoroughfare) being used by persons passing to the baths. Wade further persuaded the corporation by a money grant to demolish sixteen houses to make a passageway from the Abbey Churchyard to his new home. The route was thereafter known as Wade's Passage.
William Wade (1734-1809) was the great-nephew of George Wade (grandson of George's brother William). In 1769 he was elected master of ceremonies at Bath. Wade restored some of the respect for the role of master of ceremonies as established by Nash. He also supervised the building in 1771 of the New Assembly Rooms – at £20,000 the town's most expensive 18th-century structure.
[Chantrey 2009]
Location of Wade's house at 14 Abbey Churchyard: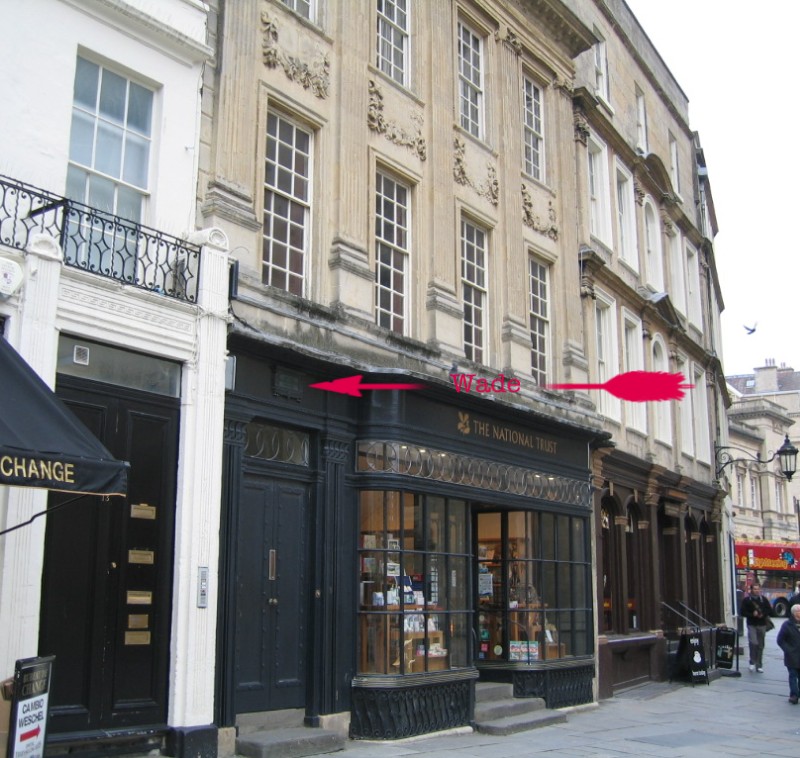 The text reads
"Here lived Marshal Wade M.P. b 1673 d. 1748"
Location map of 14 Abbey Churchyard: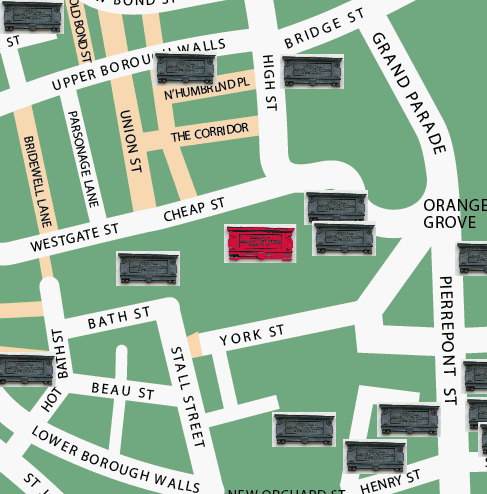 ---
(c) 2019 Bath-Heritage.co.uk | Contact us|