Isambard Kingdom Brunel

Who was he?
Wikipedia:
Isambard Kingdom Brunel, FRS (9 April 1806 – 15 September 1859), was a leading British civil engineer, famed for his bridges and dockyards, and especially for the construction of the first major British railway, the Great Western Railway; a series of famous steamships, including the first propeller-driven transatlantic steamship; and numerous important bridges and tunnels. His designs revolutionised public transport and modern engineering.
Why was he in Bath?
In 1833 Isambard Kingdom Brunel conducted a survey for the proposed railway from Bristol to London. After the completion of the survey he was appointed Engineer to the Great Western Railway at a salary of £2000 per annum. Brunel was involved in every level of design and detail of the GWR including the railway landscape at Sydney Gardens.
In c.1839 work began on the section of the Great Western Railway that runs through Sydney Gardens and effectively cuts the Gardens in half. Various garden features and buildings were destroyed including a tea house, part of the Labyrinth, the Castle, and the C18 perimeter walk. The cutting through Sydney Gardens resulted in an exceptional architecture treatment to the associated structures which were designed to blend in with the picturesque designs of the Garden. The railway added a new feature within the landscape of Sydney Gardens which included the construction of two retaining walls, a footbridge to connect the footpath from The Holburne Museum to Sydney House, a cast iron footbridge and two road bridges which form part of the boundary to Sydney Gardens. The railway and its associated structures soon became a picturesque attraction in the pleasure ground and groups of spectators gathered to watch the passing trains. The first train ran through Sydney Gardens on the 30th June 1841. In 1881, owing to the poor state of Bath Spa Railway Station, the Sydney Gardens section of the railway was chosen as the alighting point for a visit by the Duke and Duchess of Connaught.
Source:
British Listed Buildings
Location of plaque in Sydney Gardens: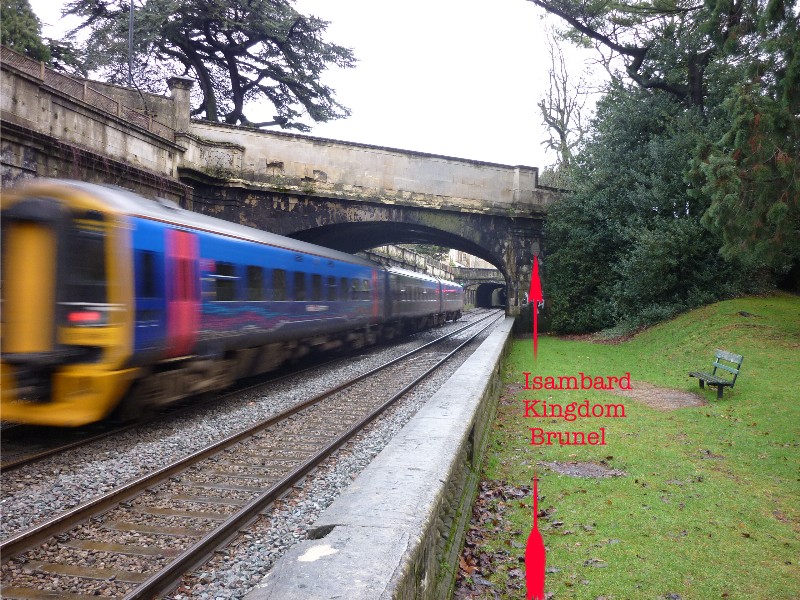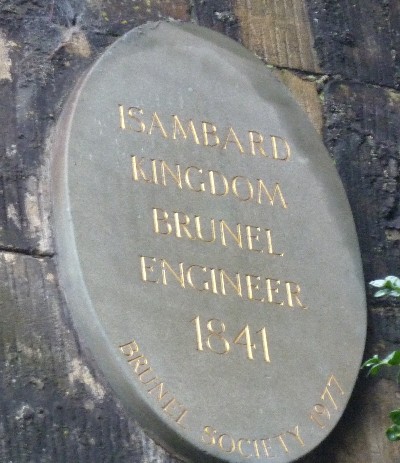 The text reads
"Isambard Kingdom Brunel
Engineer
1841
Brunel Society 1977"

Location map of Sydney Gardens: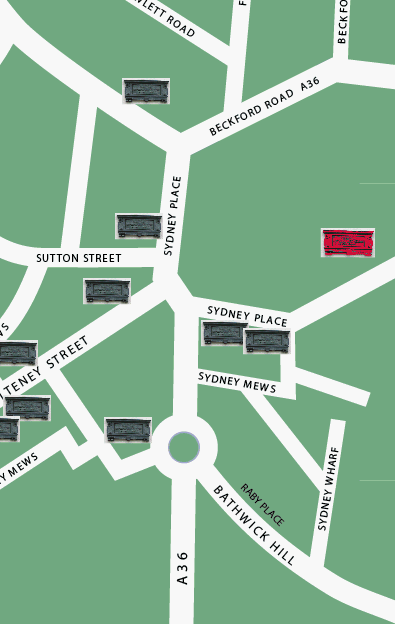 See also
Minerva's Temple
in Sydney Gardens.
---
(c) 2013 Bath-Heritage.co.uk | Contact us|