William Pitt the elder, Earl of Chatham

Who was he?
Wikipedia:
William Pitt, 1st Earl of Chatham PC (15 November 1708 – 11 May 1778) was a British Whig statesman who achieved his greatest fame leading Britain during the Seven Years' War. He again led the country (holding the official title of Lord Privy Seal) between 1766-68. He is often known as William Pitt, the Elder to distinguish him from his son,
William Pitt, the Younger
. He was also known as The Great Commoner, because of his long-standing refusal to accept a title until 1766.
Why was he in Bath?

A violent attack of gout, from which he had suffered even during his time at school, compelled him to leave Oxford University without finishing his degree in order to travel abroad. He spent some time in France and Italy on the Grand Tour and from 1728 to 1730 he attended Utrecht University. He had recovered from the attack of gout, however the disease proved intractable and he continued to be subject to attacks of growing intensity at frequent intervals until the close of his life. He visited Bath many times for treatment, owning a house at 7, the Circus for ten years (1755 - 1765). He was also Bath's Member of Parliament for the years 1757 to 1766.
"The Bath Chronicle for Thursday 21st May 1767 reported 'the right honourable the Earl of Chatham is grown better of the gout, insomuch that his lordship took an airing to Northend last Saturday.'"
[Lowndes 1981]
Location of plaque at 7, The Circus (left hand arrow):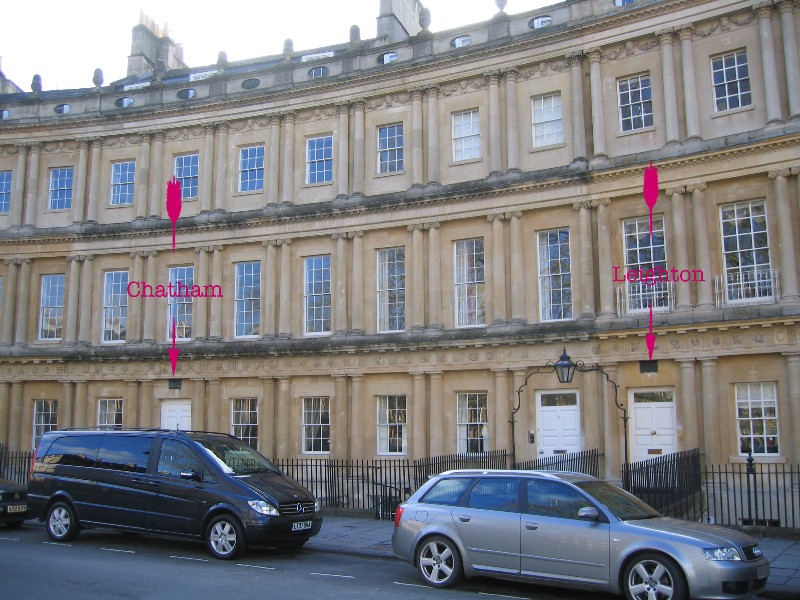 Note that the house to the right, number 8, has its door to the 'wrong' side. This house was occupied by Pitt's sister and the two houses were interconnected internally.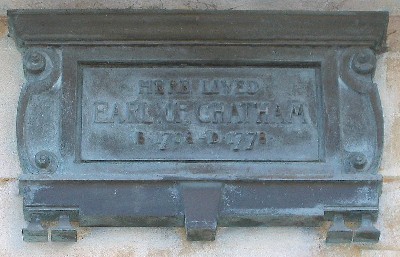 The text reads
"Here lived Earl of Chatham b. 1708 d. 1778"
Location map of 7, The Circus: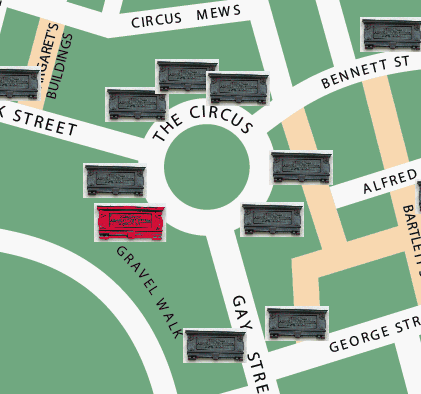 ---
(c) 2011 Bath-Heritage.co.uk | Contact us|