Dr William Oliver

Who was he?
Wikipedia:
William Oliver (14 August [O.S. 4 August] 1695 – 17 March 1764) was an English physician and philanthropist, and inventor of the Bath Oliver. Oliver is said to have invented the Bath bun, however it proved too fattening for his rheumatic patients, and so he invented the 'Bath Oliver' biscuit.
Why was he in Bath?
He was born at Ludgvan, Cornwall and after quliafication he practised for a time at Plymouth, where he introduced inoculation for smallpox. In about 1725 he settled in Bath and remained there for the rest of his life, obtaining in a very short time the leading practice of the city. This was mainly due to his friendship with
Ralph Allen
(a fellow Cornishman, who introduced him to Pope, Warburton, and the rest of the guests at Prior Park), and with Dr. William Borlase, his 'friend and relation,' who, after being his patient in 1730, sent to him the gentry of the west country. Dr Oliver was obe of the founders of the
Royal Mineral Water Hospital
.
When completed in 1734, the west side of Queen Square (below) consisted of three separate houses, with Dr Oliver occupying the centre one*. In 1830 (long after his death) the house was demolished to be replaced by the building that now bears the plaque: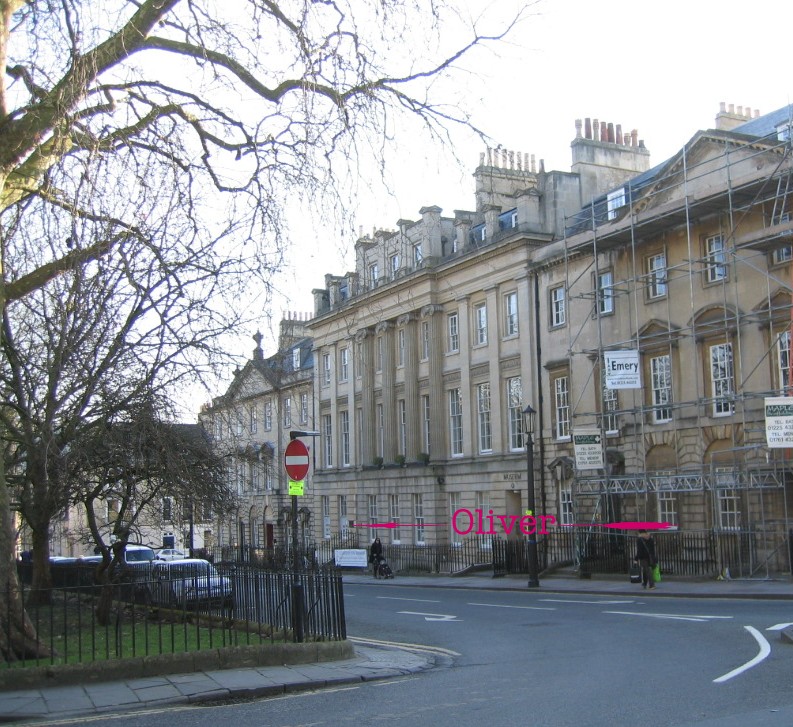 *"Another misleading plaque purports to record the residence of Dr. William Oliver in the large house that originally formed the recessed centre of Queen Square's west side. This house was designed and built by the elder Wood for Sir John Buckworth, who paid rates on it from 1736 to 1754. However, Dr. Oliver did pay rates in 1742 for the house now numbered 19, and by 1754 he was rated for the three houses now numbered 18a, 19 and 20. In 1755 he leased the site for a new house, No. 17 Gay Street."
[Isom 1980]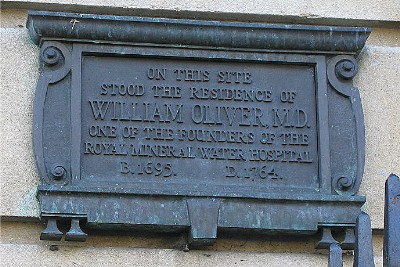 The text reads
"On this site stood the residence of William Oliver M.D. one of the founders of the Royal Mineral Water Hospital b. 1695 d. 1764"
Location map of 16-18 Queen Square: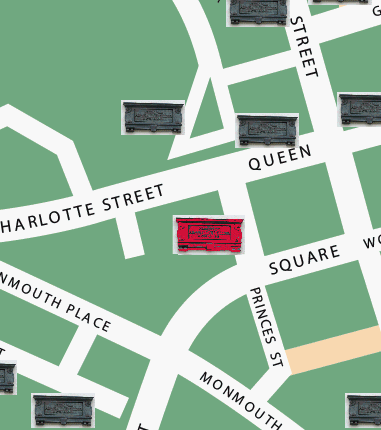 ---
(c) 2011 Bath-Heritage.co.uk | Contact us|