John Palmer

Who was he?
Wikipedia:
John Palmer of Bath (1742 – 16 August 1818) was a theatre owner and instigator of the British system of mail coaches that was the beginning of the great British post office reforms with the introduction of an efficient mail coach delivery service in Great Britain during the late 18th century. There is a plaque in the current
Post Office
building. He was Mayor of Bath on two occasions and Comptroller General of the Post Office, and later served as Member of Parliament for the constituency of Bath between 1801 and 1807.
Why was he in Bath?
Palmer was born in Bath, the son of a brewer and tallow handler [candle maker], also called John. John Palmer Junior wanted to join the army, his father wanted him to join the church, so they settled for the brewery.
[Flash 1982]
. John Palmer Senior had been instrumental in founding the
theatre in Orchard Street
which opened in 1750. In 1764, he handed over the management of the company to his son.
In 1768, John Palmer Junior presented a petition in London for a Royal Warrant for the Theatre, which was granted by special Act of Parliament. This enabled him to change the name of the establishment to the
Theatre Royal
, a privilege only enjoyed at that time by the two leading London theatres in Drury Lane and Covent Garden, making it the first provincial theatre to be given that honour.
[Toogood 2010]
In 1774, the theatre was redesigned. The architect for this work was another John Palmer, who would be involved with the design of the
building that would replace Orchard Street
thirty years later. Because of the theatre links, this John Palmer is often confused with the owner of Orchard Street, as they were contemporaries in the city. However, they were not the same person. In fact they were not even related, either to each other or to yet another John Palmer, the London actor, who occasionally appeared in productions at Orchard Street, and was particularly noted for his portrayal of Joseph Surface in Sheridan's 'School for Scandal'.
[Toogood 2010]
Location of plaque at 1, North Parade Buildings: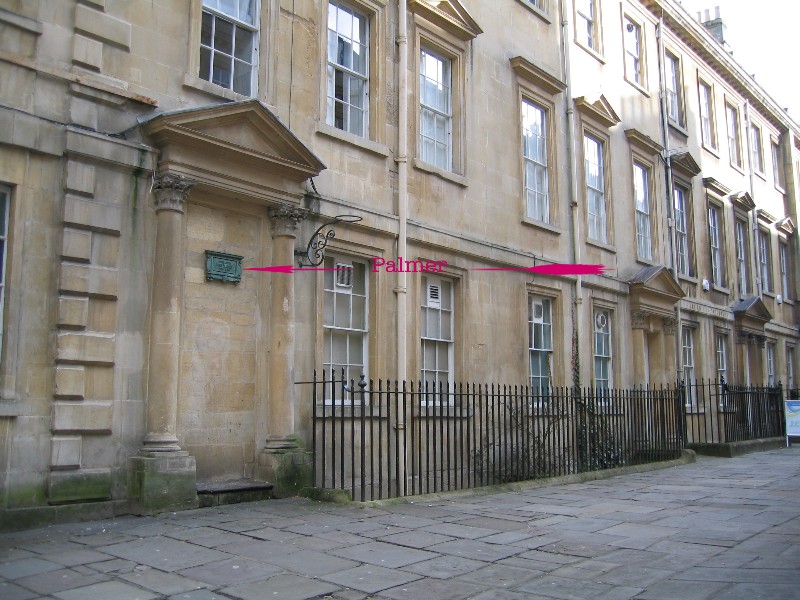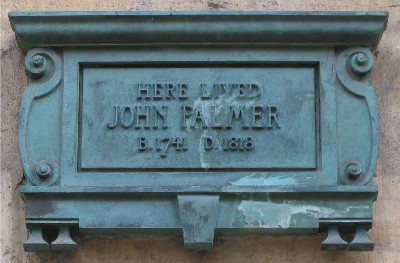 The text reads
"Here lived John Palmer b. 1741 d. 1818"

Location map of 1, North Parade Buildings: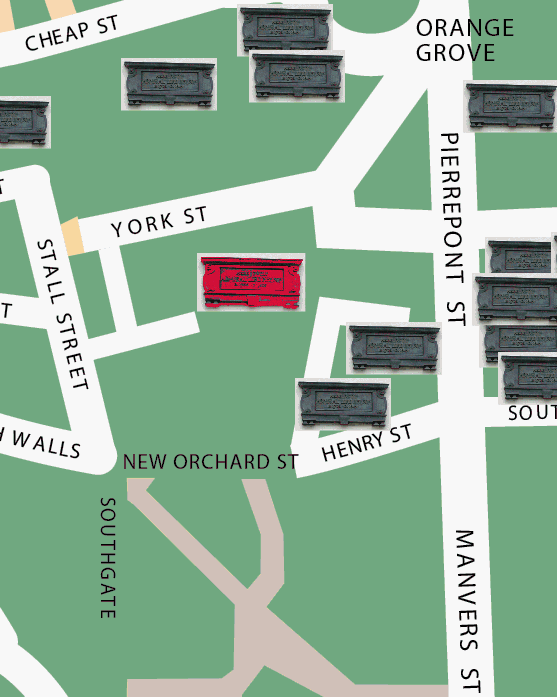 ---
(c) 2011 Bath-Heritage.co.uk | Contact us|