Admiral Arthur Phillip's Grave

Who was he?
Wikipedia:
Admiral Arthur Phillip RN (11 October 1738 – 31 August 1814) was a British admiral and colonial administrator. Phillip was appointed Governor of New South Wales, the first European colony on the Australian continent, and was the founder of the site which is now the city of Sydney.
As Captain Phillip, he was chosen to lead the 'First Fleet' which sailed from Portsmouth, U.K. to Australia in May 1787 with two warships and nine transport vessels carrying a total of 1,450 people. They landed at Botany Bay on 18 January 1788 but soon selected a site further north for the new settlement in Sydney Cove - named in honour of Lord Sydney, the then British Home Secretary. [
Bathampton Church website
]
Why was he in Bath?
In late 1792 Phillip, whose health was suffering from the poor diet, at last received permission to leave Australia and return to England. He came to Bath to 'take the waters' as a cure for his failing health. Phillip, whose first wife, Margaret, had died in 1792 married Isabella Whitehead in 1794, and lived for a time in Bath before returning to sea.
In 1805, aged 67, he retired from the Navy with the rank of Admiral of the Blue, and spent most of the rest of his life in Bath at
19, Bennett Street
, where he died in 1814.
He is buried in St Nicholas Church, Bathampton, where his gravestone is set into the floor immediately inside the church: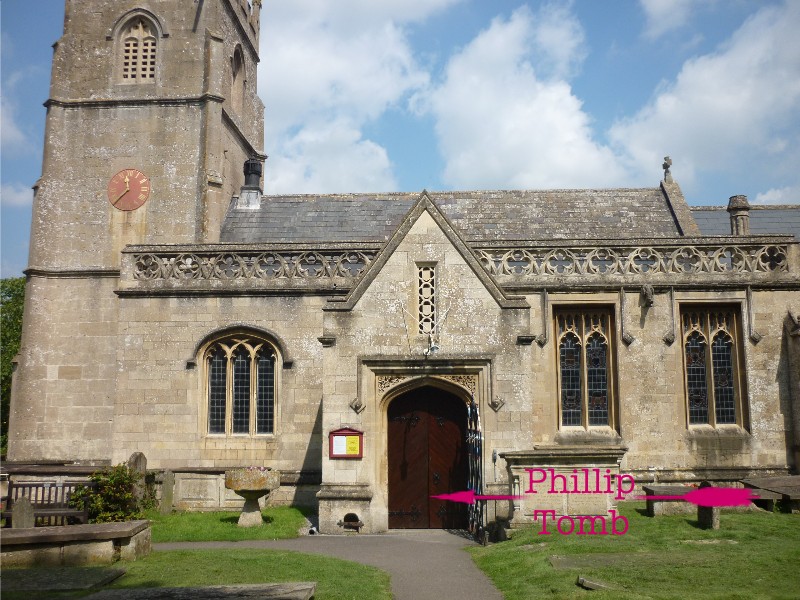 This information sign is now (March 2012) fixed outside the church door: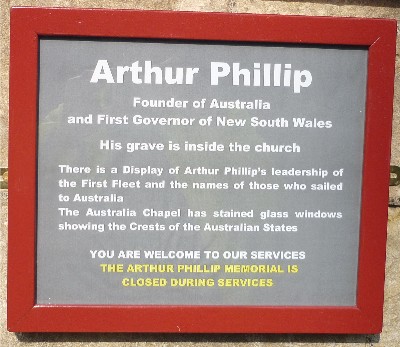 The text reads
"Arthur Phillip
Founder of Australia
and First Governor of New South Wales
His grave is inside the church
There is a display of Arthur Phillip's leadership of the First Fleet and the names of those who sailed to Australia
The Australia Chapel has stained glass windows showing the Crests of the Australian States
You are welcome to our services
The Arthur Phillip Memorial is closed during services"
His gravestone is on the floor immediately inside the inner porch door: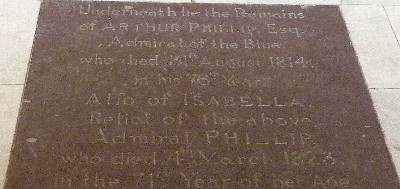 The text reads
"Underneath lie the Remains of ARTHUR PHILLIP, Esq. Admiral of the Blue who died 31st August 1814 in his 76th year. Also of ISABELLA Relic of the above Admiral PHILLIP who died 4th March 1823 in the 71st Year of her Age."
The map shows the location of Bathampton Church relative to the City of Bath; the towpath of the Kennet & Avon canal provides a pleasant walk to Bathampton: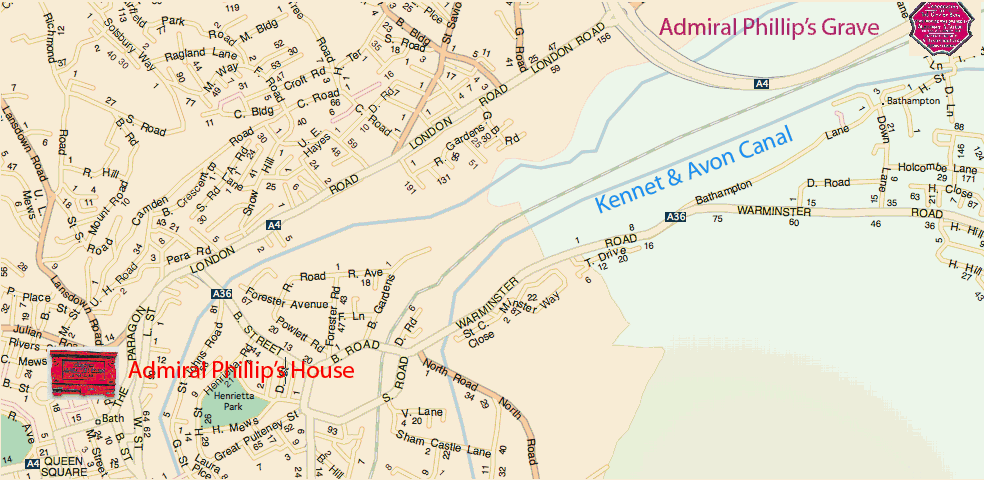 The Church also contains the Australia Chapel - follow this link for more information.

---
(c) 2012 Bath-Heritage.co.uk | Contact us|