Widcombe Footbridge Restoration
What is it?
Widcombe footbridge is a single-span, wrought-iron lattice girder construction of 1877 by T.E.M Marsh. It replaced the original double bow-string wooden arch footbridge of 1863 by Hickes and Isaac, which collapsed with eight deaths in 1877 [
Forsyth 2003
]. Originally a toll bridge, the toll of one half-penny per person gives rise to its common name of
Ha'penny Bridge
. It was most recently restored in 2013.
Where is it in Bath?
The bridge spans the River Avon from the Widcombe bank (nearest camera) to the rear of Bath Spa railway station (far end):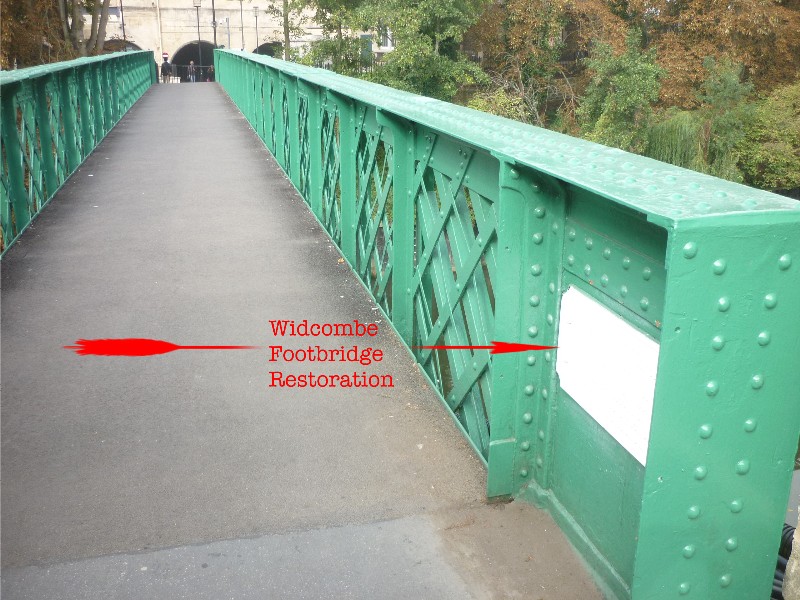 There is a plaque attached at one end of the bridge: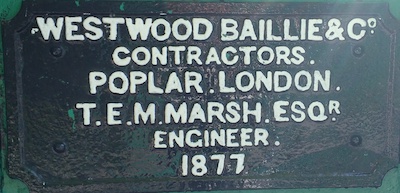 The text reads:
"Westwood Baillie & Co. Contractors. Poplar. London.
T.E.M.Marsh Esq. Engineer.
1877"
A plaque commemorating the restoration is affixed to the Widcombe end of the parapet (it has been repainted recently as shown below):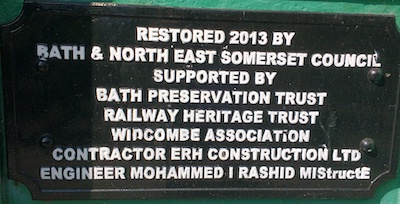 The text reads:
"Restored 2013 by Bath & North East Somerset Council
Supported by
Bath Preservation Trust
Railway Heritage Trust
Widcombe Association
Contractor ERH Construction Ltd
Engineer Mohammed I Rashid MIStructE"
The supporting buttress on the Widcombe bank has a number of engraved flood levels. For information about them see
Widcombe flood levels
.
Location map of Bath Spa railway station:
---
(c) 2020 Bath-Heritage.co.uk | Contact us|