Thomas Gainsborough

Who was he?
Wikipedia:
Thomas Gainsborough (christened 14 May 1727 – 2 August 1788) was a British portrait and landscape painter.
Why was he in Bath?

In 1759, Gainsborough and his family moved to Bath. There, he studied portraits by Van Dyck and was eventually able to attract a better-paying high society clientele. Amongst others, he painted portraits of
Lord Chesterfield
,
Sheridan
,
Burke
and
Elizabeth Linley
.
"It should be remembered that most of the celebrities who made the tiresome journey from London – it took almost two days by coach in the eighteenth century – rented houses for the season; very few of them owned property in Bath. Even Gainsborough, who lived and worked in the city for sixteen years, never owned his house in the Circus; he was a tenant of a Mr Penny, and paid a quarterly rate of thirteen shillings and fourpence (at a time when he was charging thirty guineas for a head, and eighty guineas for a full-length portrait). In these circumstances it was often very difficult to identify houses correctly, and mistakes in the siting of tablets was not unusual (it happened in Gainsborough's case)…"
[Lowndes, 1981]
Location of plaque at 17, The Circus (right hand arrow):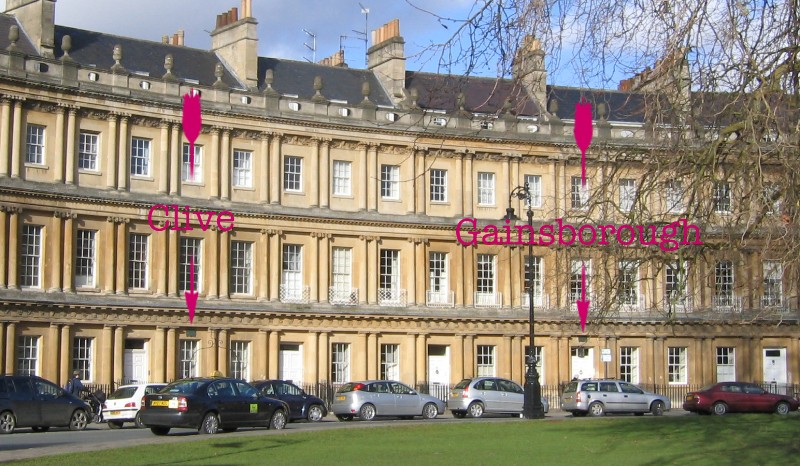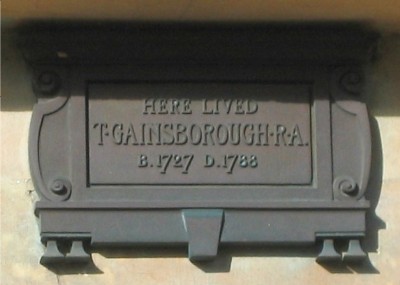 The text reads
"Here lived T. Gainsborough R.A. b 1727 d, 1788"
Location map of 17, The Circus: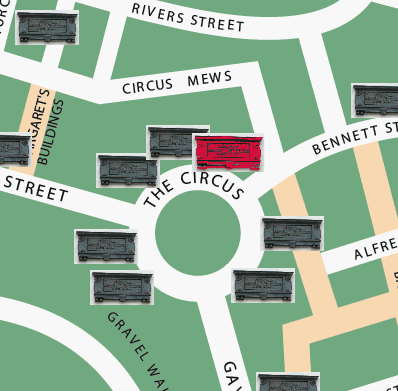 ---
(c) 2011 Bath-Heritage.co.uk | Contact us|