Queen Square Garden Gate Posts
What is it?
In the centre of
Queen Square
is a formal garden containing a tall obelisk set up in 1738 by
Beau Nash
. Originally it rose from a circular pool and was 70 ft (21 metres) tall but it was damaged in a gale in 1815 and truncated [
Forsyth, 2003
].
Where is it in Bath?
The entrance to Queen Square Garden is in the mid-point of the south side of Queen Square, opposite the Francis Hotel.
On the west gatepost is the following tablet: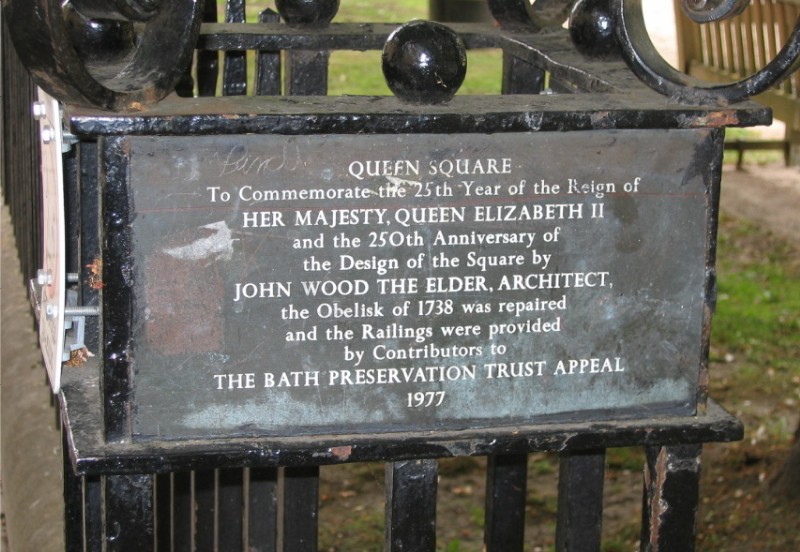 The text reads
"Queen Square
To commemorate the 25th year of the Reign of
HER MAJESTY, QUEEN ELIZABETH II
and the 250th Anniversary of
the Design of the Square by
JOHN WOOD THE ELDER, ARCHITECT,
the Obelisk of 1738 was repaired
and the Railings were provided
by Contributors to
THE BATH PRESERVATION TRUST APPEAL
1977"
On the east gatepost is the following tablet: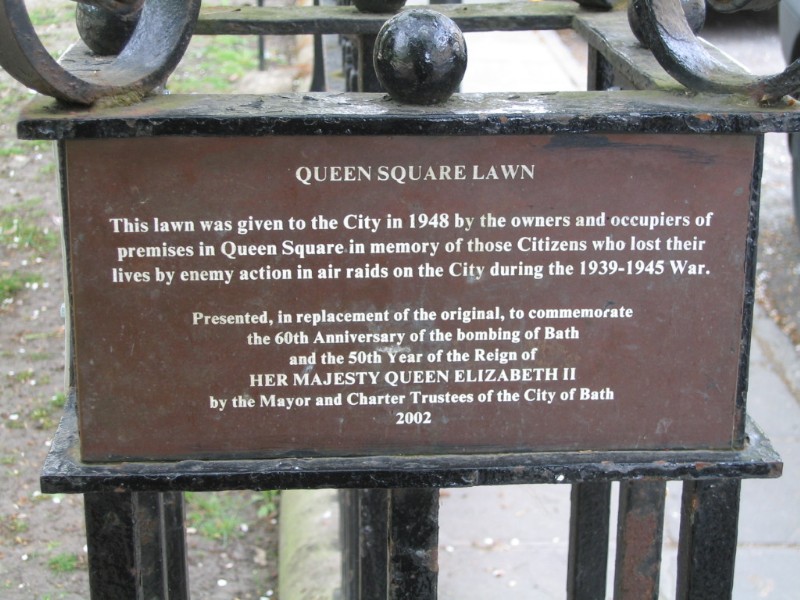 The text reads
"QUEEN SQUARE LAWN
This lawn was given to the City in 1948 by the owners and occupiers of
the premises in Queen Square in memory of those Citizens who lost their
lives by enemy action in air raids on the City during the 1939-1945 War.

Presented, in replacement of the original, to commemorate
the 60th Anniversary of the bombing of Bath
and the 50th Year of the Reign of
HER MAJESTY QUEEN ELIZABETH II
by the Mayor and Charter Trustees of the City of Bath
2002."

Location map of plaques: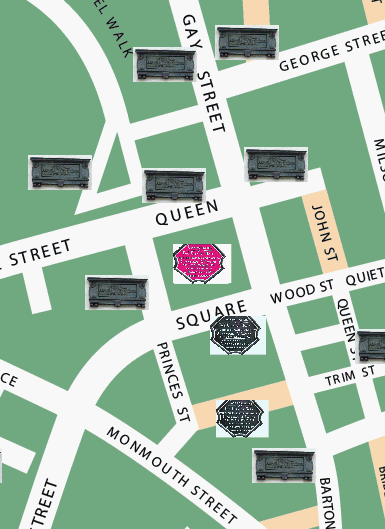 See also the
Francis Hotel
,
William Oliver
,
John Wood the elder
---
(c) 2011 Bath-Heritage.co.uk | Contact us|