Royal Crescent
What is it?
Wikipedia:
The
Royal Crescent
is a residential road of 30 houses, laid out in a crescent*, in the city of Bath. It is among the greatest examples of Georgian architecture to be found in the United Kingdom and is a grade I listed building.
*it is actually in the shape of a semi-ellipse, measuring 165 metres across.
House number 16 became a guest house in 1950 and combined with number 15 in 1971 to form the Royal Crescent Hotel. It remained a discreet, if somewhat sleepy and neglected two-star hotel until 1978. It was then redeveloped, the architects' brief being to re-create the original grandeur of Nos 15 and 16, whilst providing the comforts of a hotel that would rank with the greatest in Europe. (adapted from
Lowndes, 1981
)
Number 1 is maintained as a museum by the
Bath Preservation Trust
. It was bought by
Bernard Cayzer
in 1968 and donated to the Trust.
Numbers 2 and 17 were damaged by bombing in the 1942 "
Baedeker raids
" and restored 1948-9.
Who designed and built it?
It was designed by the architect
John Wood the Younger
and built between 1767 and 1774 on Barton fields, an undeveloped area on the edge of the existing city.
Design of the rear elevation and internal layout of each house was determined by the individual builder or collaboration of tradesmen. Number 1 was built first to serve as the model for all others to follow. The subleases contained standard clauses to ensure high standards and strict conformity with John Wood's plans. (
Forsyth, 2003
)
In front of the Crescent is a private lawn, separated from Royal Victoria Park by a sunken wall or ha-ha.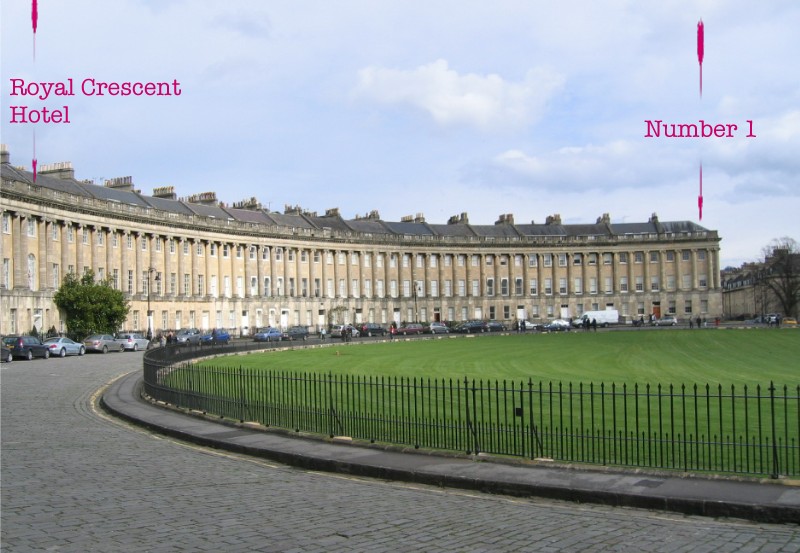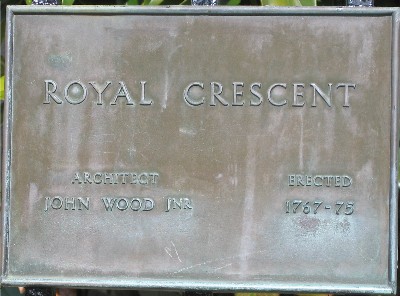 The text reads
"Royal Crescent
Architect John Wood Jnr
Erected 1767 - 75."

Location map of Royal Crescent: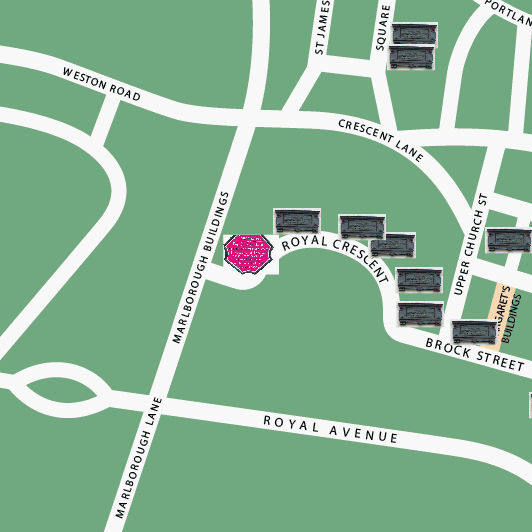 The Royal Crescent also contains plaques to the following individuals who stayed there:
House 1a:
George Saintsbury
,
House 5:
Christopher Anstey
,
House 10:
Frederic Harrison
,
House 11:
Thomas Linley
,
House 17:
Sir Isaac Pitman
.
---
(c) 2011 Bath-Heritage.co.uk | Contact us|